Wood for a high pool enclosure, as well as aluminum?
The obvious solution when looking for a pool enclosure is to choose aluminium. All the more so for a high shelter which must indeed support an important structural weight. And yet opting for a high wooden pool enclosure is an equally mechanically viable solution. In fact, it is mainly a matter of taste, because the two solutions are equal. It is the aesthetic aspect that will make you decide.
The mechanical properties of a wooden shelter make it a design object
Let's break a stereotype: if you choose a wooden shelter, you won't end up with a common garden shelter on your pool! On the contrary, it is a top-of-the-range choice and design, due to its technical and aesthetic properties:
The monobloc arches in glued laminated wood combine finesse and elegance: the shelter will blend perfectly into your environment, without distorting your garden.
These curved glulam beams are as resistant to the load of the shelter structure as a metal beam, as metal or concrete could be. They therefore support very well ultra-resistant polycarbonate glazing, which is also used for side panels. To convince yourself, take a look at the structure of the INSEP covered stadium manufactured according to this principle.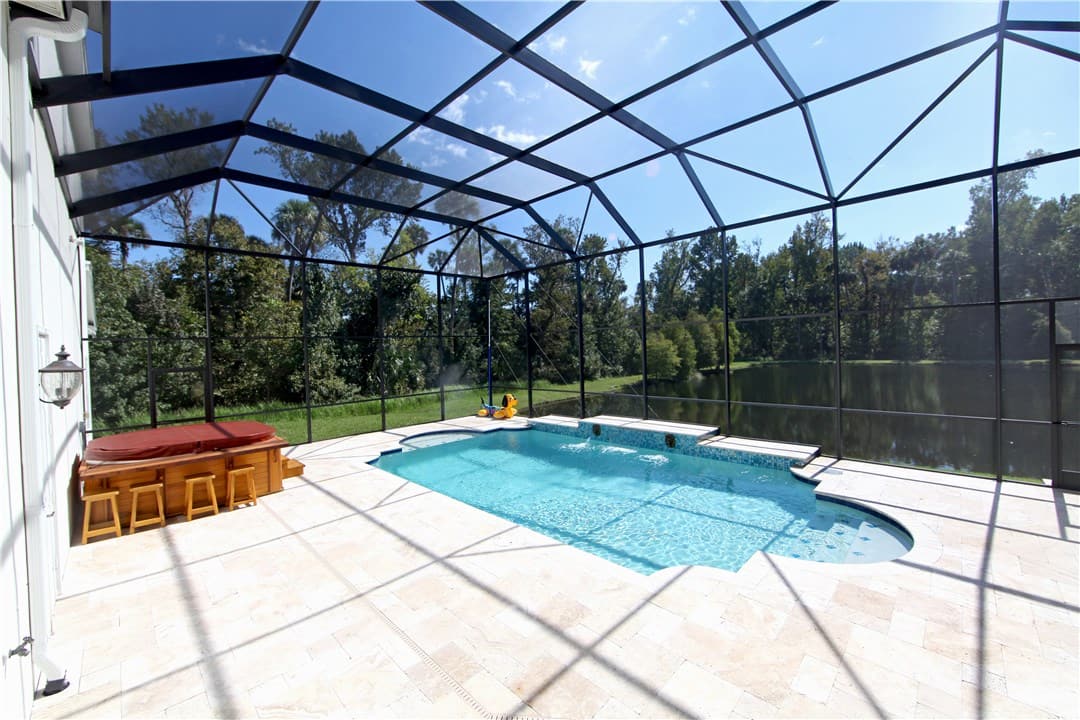 Wood is a sustainable material that contributes to the ecological effort
Any tree cut down is replaced and therefore does not endanger the forest ecosystem; the rights of workers and indigenous populations are respected; the raw material is sold at a fair price.
Secondly, all construction wood, treated or untreated, requires less energy and CO2 emissions throughout its life cycle, from production to recycling, than any other material.
Finally, it should be remembered that a high wooden pool enclosure can increase the water temperature from 42° to 46° (like an aluminium enclosure). That's less energy to heat your pool.
You are therefore making a socially and economically responsible choice.
A wooden shelter is fixed, i.e. it does not require rails or rollers to be opened. And it is perfectly modular: the side panels can be retracted under the roof. Double-opening, they can also be opened over the entire width of the shelter according to your desires, whether you choose a rotunda or straight gable shelter. Finally, it is possible to partially open it for safety reasons or to ventilate it.
In short: why choose a wooden pool enclosure?
A wooden pool enclosure is a top-of-the-range choice, respecting the natural harmony of your garden and the architecture of your home

Glued laminated wood makes it possible to produce designer and resistant wooden shelters.
You choose a sustainable, ecologically responsible solution
You will find all the modularity of a classic high shelter
So why not try installing a wooden shelter over your pool.